Stand-up paddleboarding making a splash in summer
Share - WeChat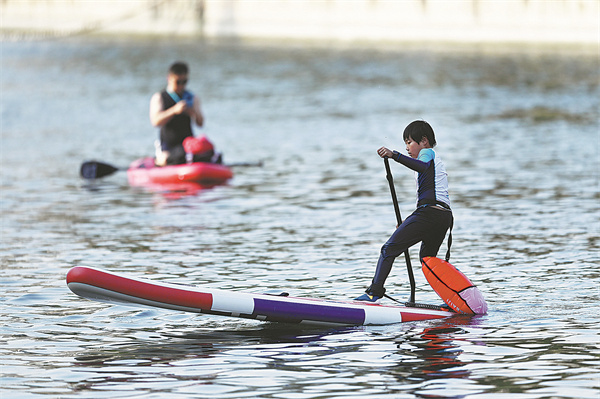 Urban dwellers in China are taking up paddleboarding to beat the sweltering summer heat and get closer to nature as COVID-19 restrictions limit their chances to go on long-haul trips.
"If I can't go to Sanya, the moat will be my Garden of Eden," so goes a social media post, as cited by Chinese news portal Jiemian.
The author was hoping to replace a trip to Sanya, a beach destination in South China's Hainan province, with a stand-up paddleboarding, or SUP, experience in their own city. The once-obscure water sport is making a splash this summer in the country's urban areas.
"SUP gets us closer to nature and enables us to investigate the city we live in from different angles," a Beijing-based member of an online group of more than 400 SUP enthusiasts was quoted as saying by People's Daily.
"Water sports are exceptionally hot this year," a staff member at Beijing's Chaoyang Park told Beijing Business Today.
"Water sports used to be a relatively niche area, with most of the participants being members of sports clubs. Lately, the number of nonmembers participating in water sports has been on the rise and some of them joined a club after just one water sports experience," said the worker.
Most Popular